Description
APOLLO
The Apollo CD player utilises Rega's own custom chipset and software offering a truly unique level of performance for a CD player. Development of the analogue, digital and control domains ensured direct improvements of both analogue and digital outputs, making the Apollo a perfect partner for the Rega Brio amplifier.
A Truly Unique Level of Performance
The Apollo is housed in our latest custom half-width case to match the Brio amplifier. The top-loading mechanism offers ease of use and unrivalled reliability.
The output amplifier of the Apollo uses the high specification Wolfson WM8742 digital to analogue converter, the same integrated circuit found in the multi-award winning Rega DACs.
The Apollo uses 'digital' power supplies feeding the CD processor, optical block and laser diode amplifier. This is achieved by using the same high performance, low noise power supplies found in the same location within the Rega reference CD player. This vastly improves the playability, error correction and the 'inner core' processing of the digital CD 'spinner' part of the Apollo.
The discrete output amplifier has a THD of 0.0025%, whilst at the same time improving the overall sound quality of the output amplifier.
The user interface is controlled by using a dedicated display micro-processor, which eases the workload on the main control processors giving an improvement in the control code stability, usability and improved speed of initialisation of the disc being played.
A new dedicated CD remote handset is supplied as standard which also has the advantage of Rega amplifier functionality.
KEY FEATURES
High specification Wolfson DAC
Advanced output amplifier circuit
Advanced digital power supplies
Rega's unique CD control software
Rega mini remote control
Lifetime warranty against manufacture defects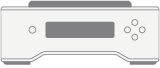 TECHNICAL SPECIFICATIONS
DAC

Wolfson WM8742

Line Output Maximum Level

2.15 V (minimum load impedance 10 kΩ)

Digital Output Maximum Level

0.5 V (load impedance 75 Ω)

Digital Sampling Frequency

44.1 kHz

Dimensions (W × H × D)

215 × 90 × 40 mm

Required space for operation (lid fully open) (W × H × D)

215 × 165 × 340 mm
For full technical specifications, download Apollo CDP User Manual (multi-lingual) below.
DOWNLOADS
This is an exuberantly musical performer, make no mistake.